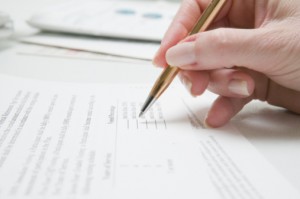 Becoming a funeral director requires an associate's degree in mortuary science and individuals must be licensed by the state in which they will be employed. The mortuary science program includes courses in business law, ethics, grief counseling, embalming and restorative techniques. There are also internships available that allow students to work in a funeral home and get hands on approach to what the job entails.
In a time of loss funeral directors must know how to treat clients with compassion. They must be able to talk to families and be considerate when explaining the services needed. Time-management skills help funeral directors deal with several tasks for numerous clients from providing the proper funeral forms to coordinating with cemeteries. Families that are going through the process of loss want to complete paperwork quickly and have their loved one taken care of whether by burial or cremation.
The daily life of a funeral director's job can be at times difficult and stressful. Tasks like removing the body of the dead, getting the body ready for embalming, applying makeup and dressing up the dead body are just part of managing a funeral home. Funeral directors may also help families in preparing obituary notices, buying a casket, arrange for people to carry the coffin, prepare the site with flowers, catering services and provide transportation for the mourners.
They mostly work full-time and are on call often, which includes working nights and weekends. While the job is emotionally and physically demanding, having drive and dedication to ease the passage from life to death for the families can be gratifying.
Another very important responsibility is having the necessary funeral forms to assure the planning process is well organized. To help families with the arrangement process and simplify office paperwork, funeral directors can use business software that enables them to produce the documents needed.
Several things to look for when purchasing software is the ability to prepare & print out the following types of documents:
Death certificates
Funeral arrangement forms
Stationary
Cremation forms
Transit permits
Pre-need funeral contracts
Pre-need identification cards
Billing statements and envelopes
A funeral director's job isn't easy but can be worthwhile having helped families with the tasks needed in taking care of final disposition of their loved one's body. Waiting for paperwork to be completed can be hard for families if it takes too long. Doing this by hand takes up time and becomes hard to organize. Software that helps the funeral director automate the paperwork process is essential to their business. By having all the funeral forms necessary for their services, funeral directors can manage their business more efficiently.
Other aspects of using business software in a funeral home is tracking sales, keeping inventory and running other service reports. It is faster accessing information stored in a database then it would be in file cabinets. Software can safely back-up all data to insure against loss.
Aug 5th, 2013
Author:
martin